| | |
| --- | --- |
| | After uploading your photos to a Gallery, you can then have the system automatically detect different people within the photos through face recognition*. This allows you to easily locate all the photos containing a particular individual by filtering by the people appearing in photos. |
*Note: The People Filter will only visible to Clients and Guests being invited to view the Gallery when they've been added to the Gallery as a Client or Guest. Normal website visitors or non-Client visitors will not see the People Filter.
Identifying People in a Gallery
To set up People Face Filter in a gallery, follow these steps:
Click on the People feature icon.
Choose Click here to begin scanning.
You will be able to see the progress of the system detecting different faces in the Gallery.
Once complete, you'll see all the different individual faces seen in the photos, across the top of the Gallery.
Note: If you upload any new photos to the same Gallery, in the future, you will need to run the People feature face recognition again to detect the newly uploaded photos.
Filtering by People
To filter the Gallery by a specific individual, click on the circle with their recognized face. You can also select multiple people to see their recognized photos – click each recognized face you want to add to the filter.

To remove someone from the filter, just click on their face again to deselect them.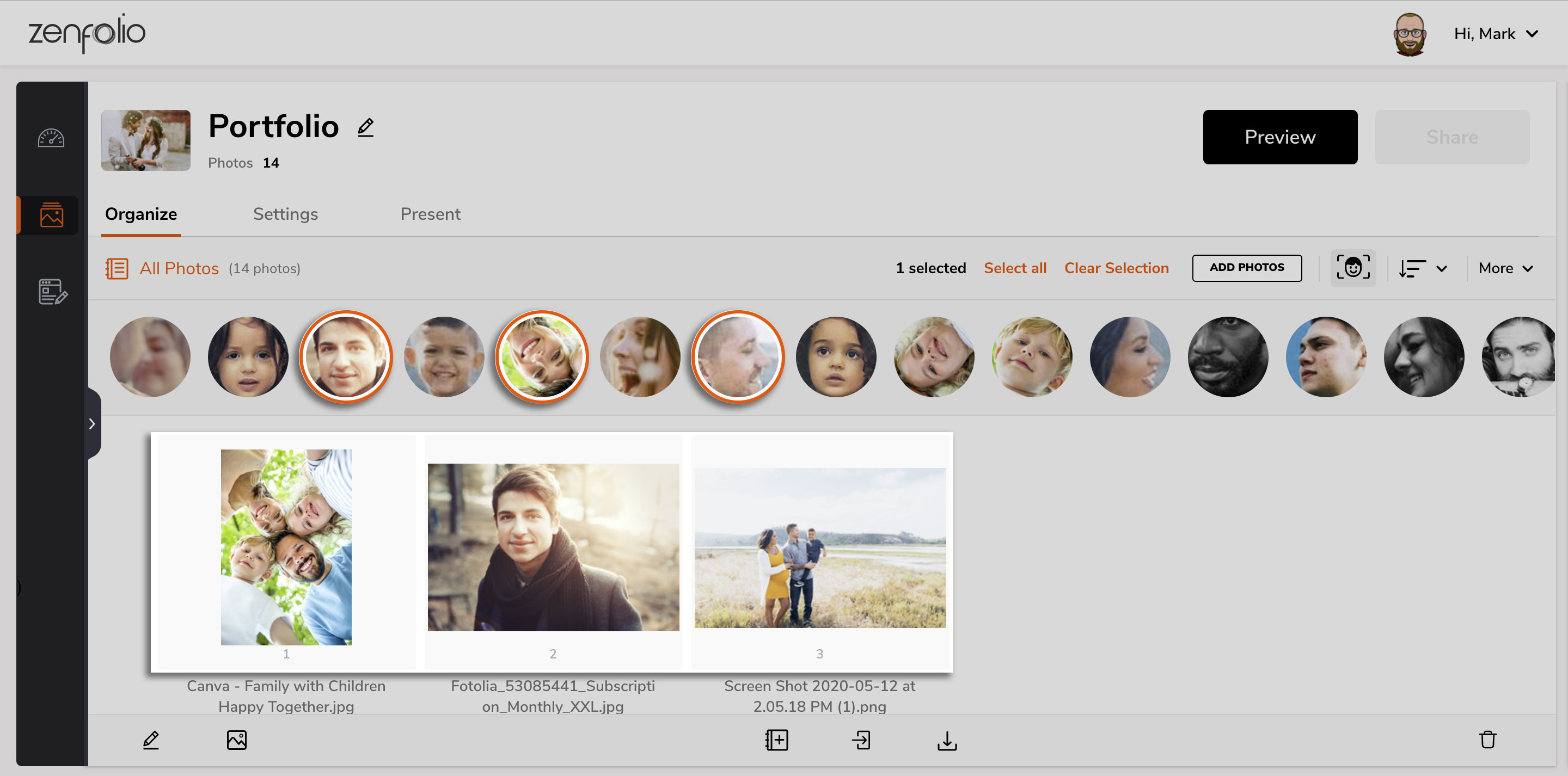 What Shoot Types Allow People Filtering
At this time, not all shoot types will include the People Filter feature. Below is a list of Shoot Types that DO include People Filtering.
Commercial (excluding Architecture, Automotive, Food, Fine Art, Landscape, and Product).
Corporate
Event (excluding School and Theater)
Portrait (excluding Pet and Boudoir)
Wedding
If you've uploaded a Gallery to your Zenfolio account that you would like to use the People Filter with, but the current Shoot Type does not offer this feature, you can always change the Shoot Type of the Gallery at any time and the People Filter will become immediately available.
To change the Shoot Type of an existing Gallery, go to the Galleries area of your account.
Locate and open the Gallery you want to change the Shoot Type for.
With that Gallery open, click on More and choose Edit Gallery Info.
In the panel that appears on the right-hand side, adjust the Shoot Type to one of the types that include the People Filter.

*Per legal requirements, facial recognition feature is not available for photographers based in Illinois.