After a client has booked your photography services through BookMe, you can manage their booking by editing client information, rescheduling, sending invoices, and cancelling bookings.

Upcoming, Pending, Previous, and even Cancelled bookings can all be managed by following these steps:
In your account, click on the BookMe icon, on the left-hand side.
Go to the My Bookings tab.
Select Upcoming, Pending, Previous, or Cancelled to view applicable bookings.
Once you locate the needed booking you can choose from various options: Reschedule, (Edit), Cancel Booking, and Billing.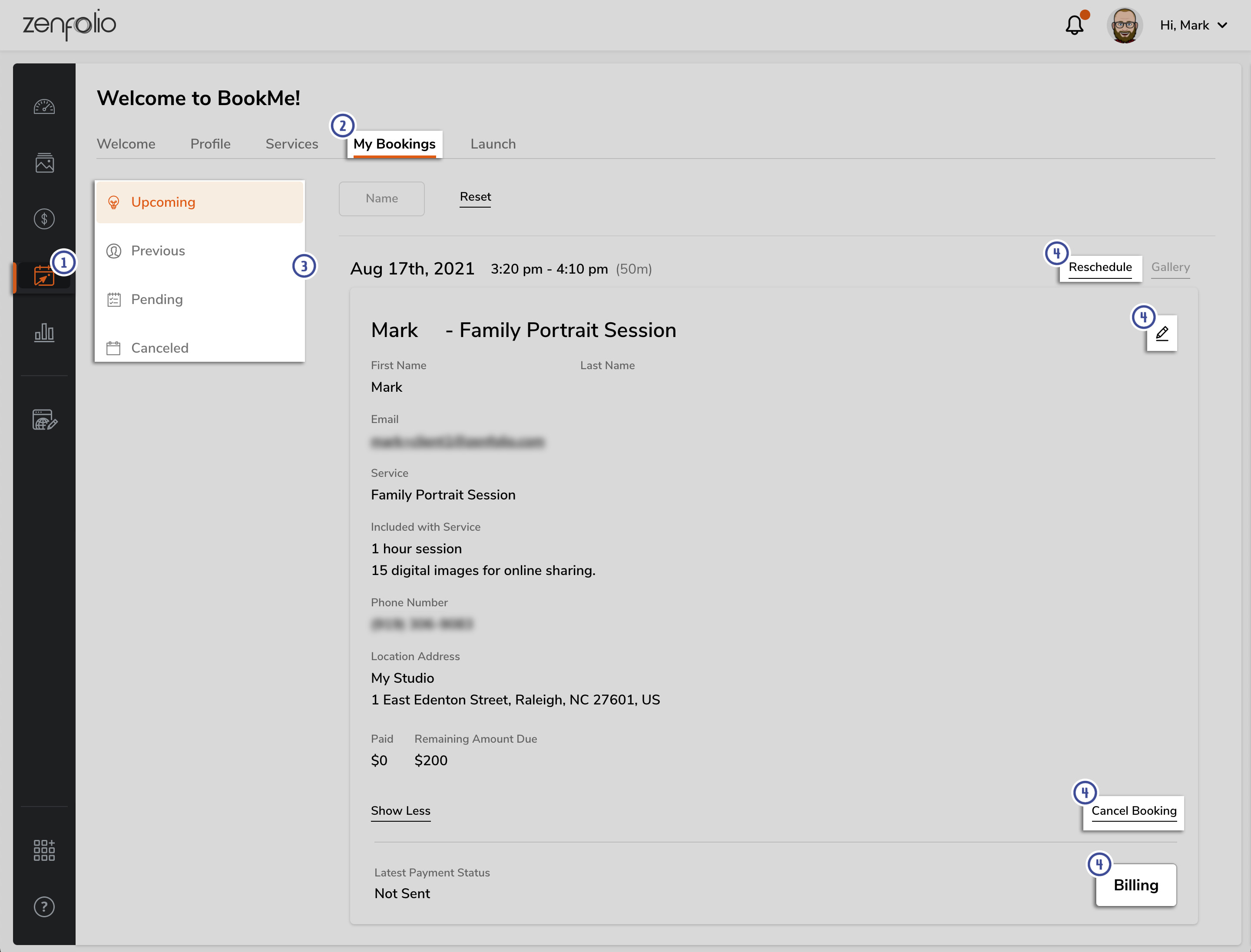 Reschedule
Sometimes you or the client may need to reschedule the originally booked time and/or date. This can be done through the reschedule option in a booking.
When rescheduling you will need to set the start and end date/time. If you need to send a notification about this to the client, check the box for the client notification; optional notes can be added as well. Once you click on Save the email notification will be sent to the client and the booking's date will be updated.

(Edit)
After a client has booked your services, you can edit their booking information.
Click on the (edit) button.
Change any information where a grey text box is present.
Click on Save when you're done.
Cancel Booking
Also within the Edit area, upcoming/pending bookings can be cancelled.
Click on the (edit) button.
Scroll down, and click on Cancel Booking.
In the window that pops up, you'll be asked to confirm the cancellation. Click the Yes, cancel booking option.
Then click Save.
Billing
In the Billing area of a booking, you can interact with existing paid/unpaid invoices, as well as create new invoices to collect payments.
To interact with an existing invoice, click on the invoice in the Activity area. With that invoice selected, click on the Select dropdown menu to choose from available options.
To create a new invoice, click on Add New Invoice. You can then enter in the necessary information about the invoice; amount, internal note, note to client. Checking the "send notification to client" box will send the client a notice of the new invoice with the option to pay that invoice.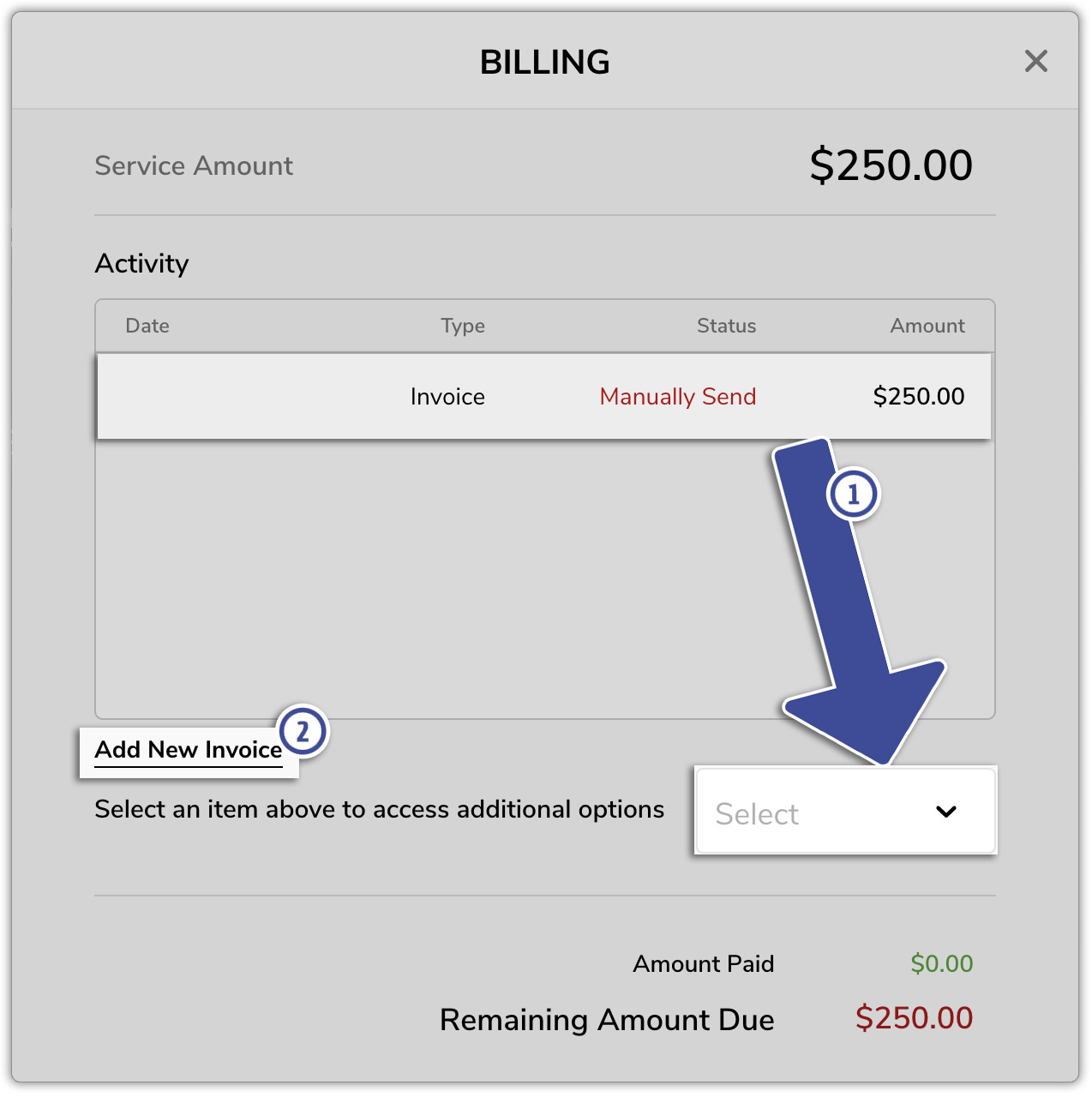 Fees and Costs of Using BookMe
There are no additional fees from Zenfolio when clients are paying for bookings through BookMe. However, there will be a Payment Processing Fee imposed by the processor used to accept payments through BookMe (Stripe or PayPal) – 2.9%+0.30 when using Stripe or 3.49%+0.49 when using PayPal.
Additionally, for those that are selling product Packages through their BookMe Services (optional) there is a commerce fee of 7% per order (calculated on the package order sub-total, excluding tax and shipping) and the payment processing fee of 2.9%+0.30 when using Stripe* or 3.49%+0.49 when using PayPal (calculated on the package order total, including tax and shipping). You keep the remaining profit from the package sold, minus any product cost for either print production or digital product delivery.
*If an order is discounted during approval, after being placed, Stripe charges an additional fee on the discounted amount of 1% for USD transactions and 2.9% for non-USD transactions. This additional payment processing fee from Stripe will be seen on Stripes end of the reported payment.