Exclusive to US PortfolioPlus and ProSuite subscribers.
One of the biggest questions, when selling your photos, is how to price the products that you're offering. There are many different variables that go into deciding how much you should charge for a print, or what's going to be a reasonable price for digital downloads, comparatively to your fellow photographers.
Zenfolio Smart Pricing was designed to help solve that problem, allowing ecomm trends in your area to determine how much you should charge for your products.
How does Smart Pricing engine work?
When enabled, Smart Pricing will use a database of historical pricing information based on how photographers have priced their products in the last 12 months. The Smart Pricing engine uses this data to estimate pricing for similar products based on:
Geographic location (e.g. zip code/state/province)
Printing lab fees
Your photography shoot type (e.g. sports, portraits, landscape)
When you're adding new products to your Price Lists, the suggested Selling Price will be based on the Smart Pricing data.
If you would like to change the Selling Price of a product suggested to you, you can still manually change that product's price and this will override the Smart Pricing on that product, in that Price List. The Smart Pricing engine is clever enough to know when a product's price has been manually changed and will use this information to keep evolving as time goes by with new pricing added by yourself and other photographers.
Enabling/Disabling Smart Pricing
In your Zenfolio account, click on the Selling icon, on the left-hand side.
In the Selling area of your account, click on the Price Lists option.
Locate a Price List you want to edit/view, and click on the Edit button.
Scroll down to the Individual Products List section, and you will see Smart Pricing

. Toggle the

switch on/off

depending on whether you'd like to use this feature or not.

Please note: Smart Pricing will be enabled by default and you will need to turn this option off if you're not wanting to use it.
The Smart Pricing column, in your list of products, displays the prices that the engine suggests.
If you want to manually change a Selling Price, you can still do this by typing the price you want into the provided Selling Price box, next to each product.
Once you've completed making changes, be sure to Save your Price List.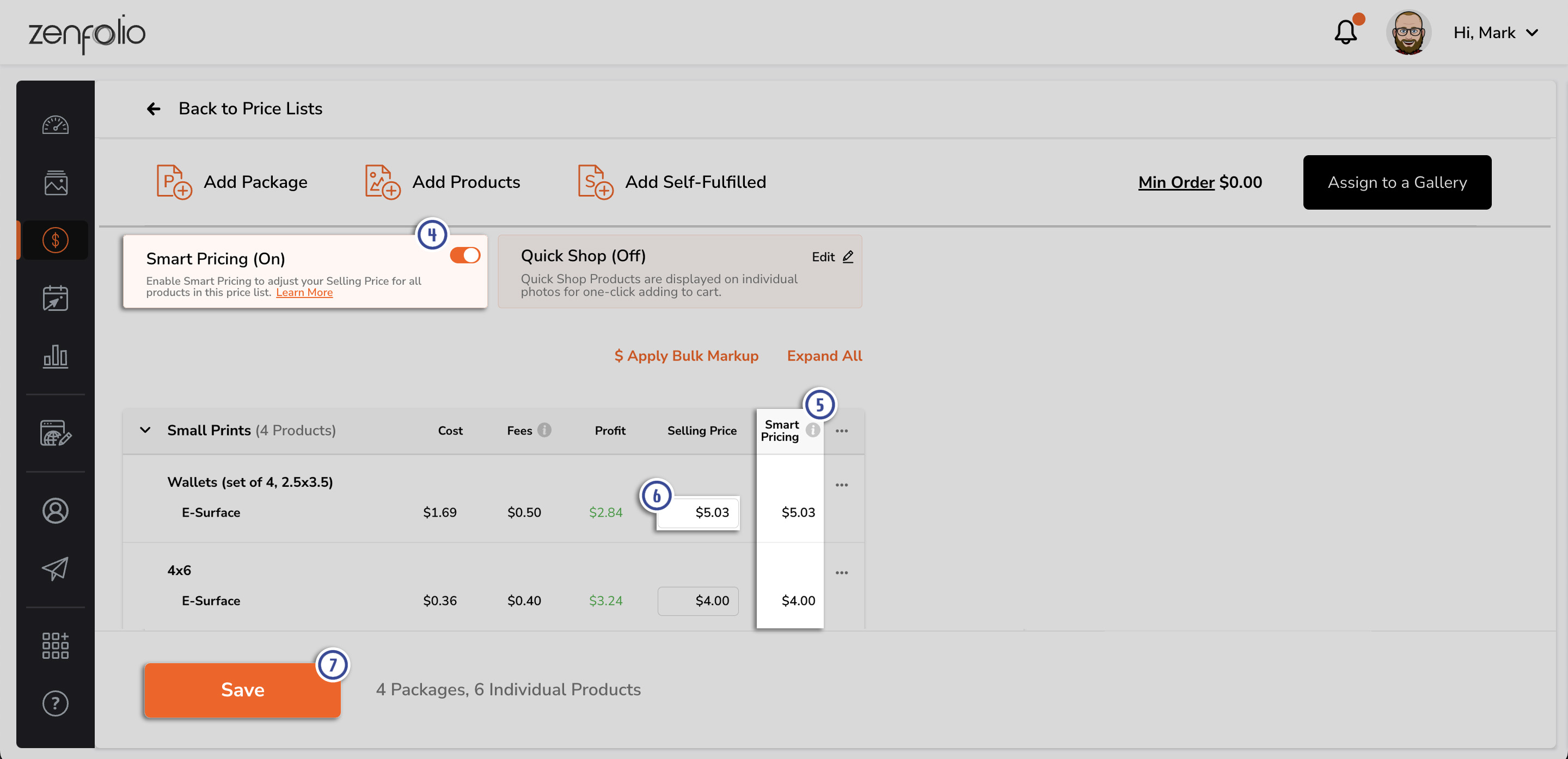 Please note that the Smart Pricing engine will be enabled by default in all Price Lists, in all accounts. However, any existing Price Lists in your account that have already had their Selling Prices set manually will not be impacted by this feature being enabled, and those manually set prices will override what the Smart Pricing engine is suggesting.
Please be aware of the following fees and costs when selling products through Zenfolio: There is a commerce fee of 7% per order (calculated on the order sub-total, excluding tax and shipping) and a payment processing fee of 2.9%+0.30 when using Stripe* or 3.49%+0.49 when using PayPal (calculated on the order total, including tax and shipping). You keep the remaining profit, minus any product cost for either print production or digital product delivery.

*If an order is discounted during approval, after being placed, Stripe charges an additional fee on the discounted amount of 1% for USD transactions and 2.9% for non-USD transactions. This additional payment processing fee from Stripe will be seen on Stripes end of the reported payment.