Exclusive to PortfolioPlus and ProSuite subscribers.
When it comes to accepting payments for photo orders sold through your Galleries, or services sold through BookMe, there are options! If you'd prefer to collect payments, and have your profits paid out to you, via Stripe you can follow the instructions provided below to set up your Stripe Express account for accepting payments with Credit/Debit cards, Apple Pay, or Google Pay.
Note: All orders requiring manual approval must be approved within 21 days. Orders that are not approved in 21 days will be cancelled and refunded automatically.
Setting Up Stripe for Accepting Payments
In your Zenfolio account, click on the Selling icon on the left-hand side.
In the Selling section, click on the Settings tab.
Scroll down to the Stripe section of the Payment Options and click on Connect Stripe.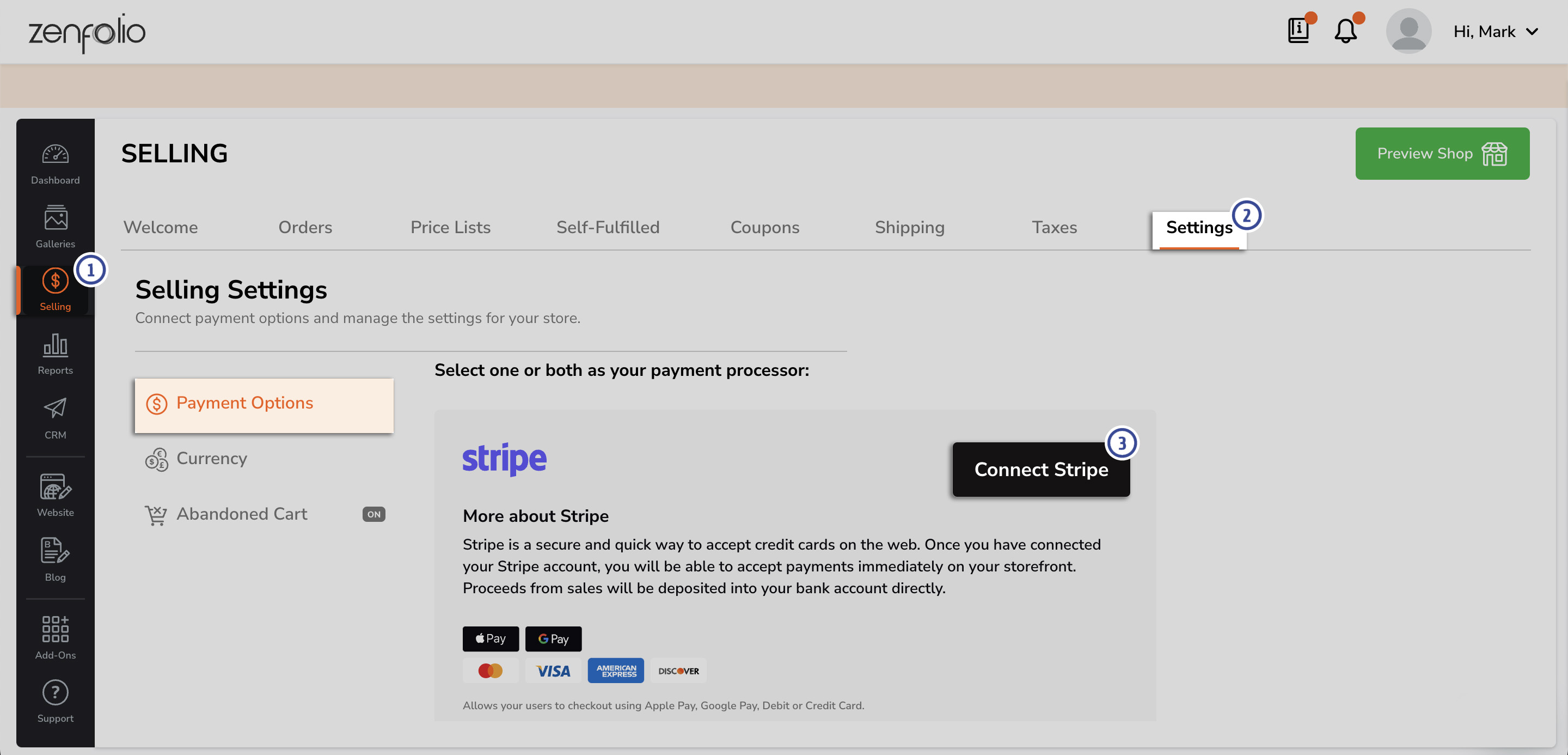 You will be redirected to Stripe where you can begin creating a Stripe Express account. Follow the guided steps and provide all required information during the setup process. During this process you may need to provide personal/business tax information.
Managing Stripe Connection
After you have completed connecting your Zenfolio account to a Stripe Express account, you can then manage that connection from within your Zenfolio account.
On the Selling Settings page of your Zenfolio account, locate the Stripe section. Here you will see the name and email address associated with the Stripe Express account that has been connected.
Customize the Payment Processing Name to adjust what clients will see on the bank statement when purchases are made. Be sure to click on the Save button once you update the Payment Processing Name.
Click on Go to Stripe to access the Stripe Express account where you can view transactions and payout statuses. This is also how you will access Stripe to make any updates to your business, payout, or tax information.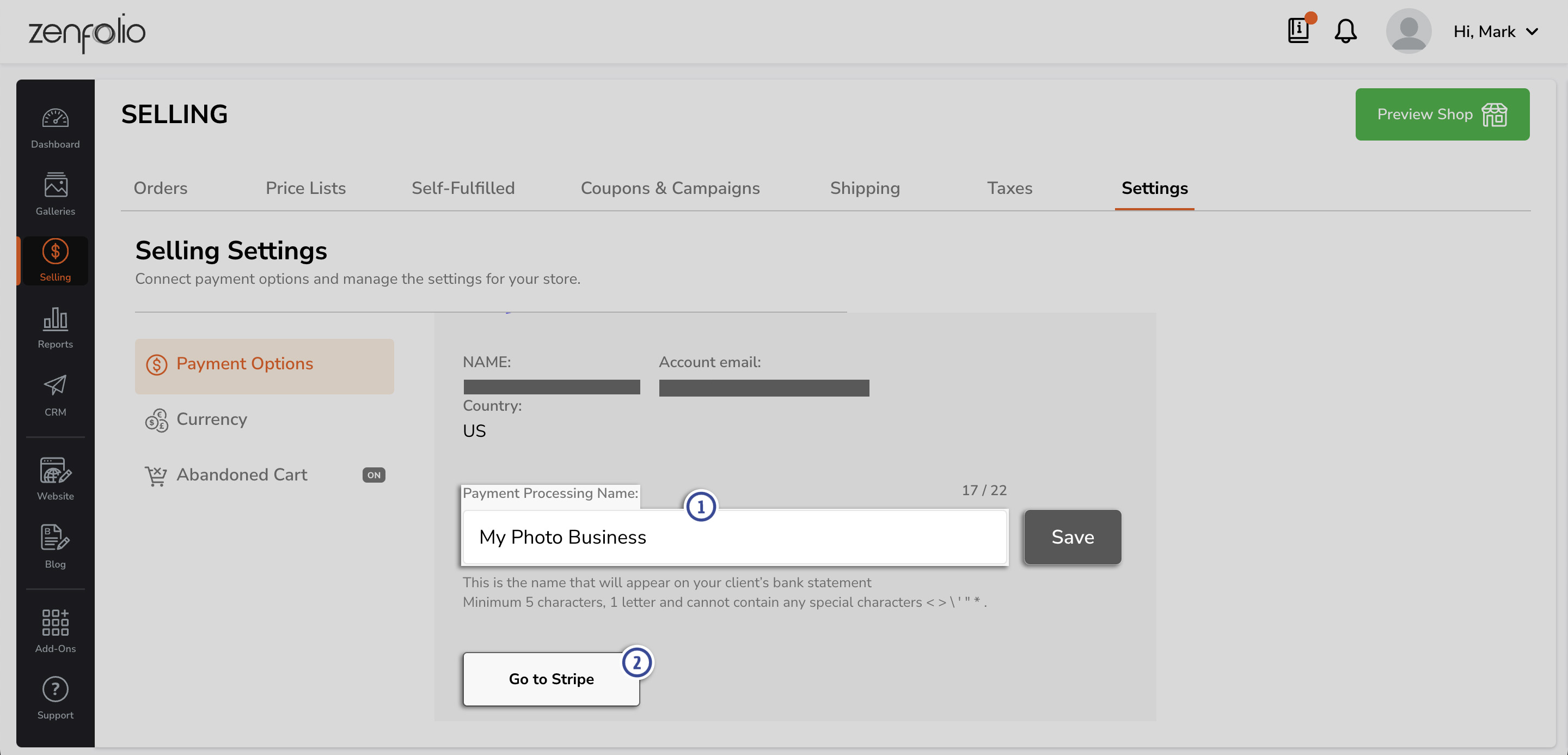 Payment Options For Clients
Now that you've set up a way for accepting payments, and you've set up the Store within your Galleries, clients will be able to pay either via PayPal and/or Credit/Debit card, Apple/Google Pay* if you've set up Stripe.
Keep in mind that if you only set up PayPal to accept payments, clients will only be able to pay for their orders using PayPal. When accepting payments via PayPal clients will be required to sign in or sign up for a PayPal account to complete their payment.
If you choose to set up Stripe and PayPal for accepting payments, clients will be able to choose how they pay for their orders.
Transactions made through Stripe (Credit/Debit card, Apple Pay, and Google Pay) will be paid out through Stripe. Transactions made through PayPal will be paid out through PayPal.
Please note that Apple Pay and Google Pay are not available payment options for BookMe payments.
*Google Chrome users will see Google Pay instead of Apple Pay.
For all non-USD orders processed through Stripe, the following applies:


If a discount is applied to the order during the approval process, after it has been placed, a partial refund will be generated to reflect the discount. This partial refund issued to the client will be charged to the credit card on file for the Zenfolio account owner.
Please be aware of the following fees and costs when selling products through Zenfolio: There is a commerce fee of 7% per order (calculated on the order sub-total, excluding tax and shipping) and a payment processing fee of 2.9%+0.30 when using Stripe* or 3.49%+0.49 when using PayPal (calculated on the order total, including tax and shipping). You keep the remaining profit, minus any product cost for either print production or digital product delivery.

*If an order is discounted during approval, after being placed, Stripe charges an additional fee on the discounted amount of 1% for USD transactions and 2.9% for non-USD transactions. This additional payment processing fee from Stripe will be seen on Stripes end of the reported payment.