Exclusive to PortfolioPlus an ProSuite Subscribers.
Before getting started with selling you'll want to make sure that you've set up your account's Selling Settings that will determine how order payments will be processed, what currency will be used, and what unit of measurement is used for the products being offered.
You can access your account's Selling Settings by following these steps:
In your Zenfolio account, select the Selling icon on the left-hand side.
From the Selling section of your account, click on Settings.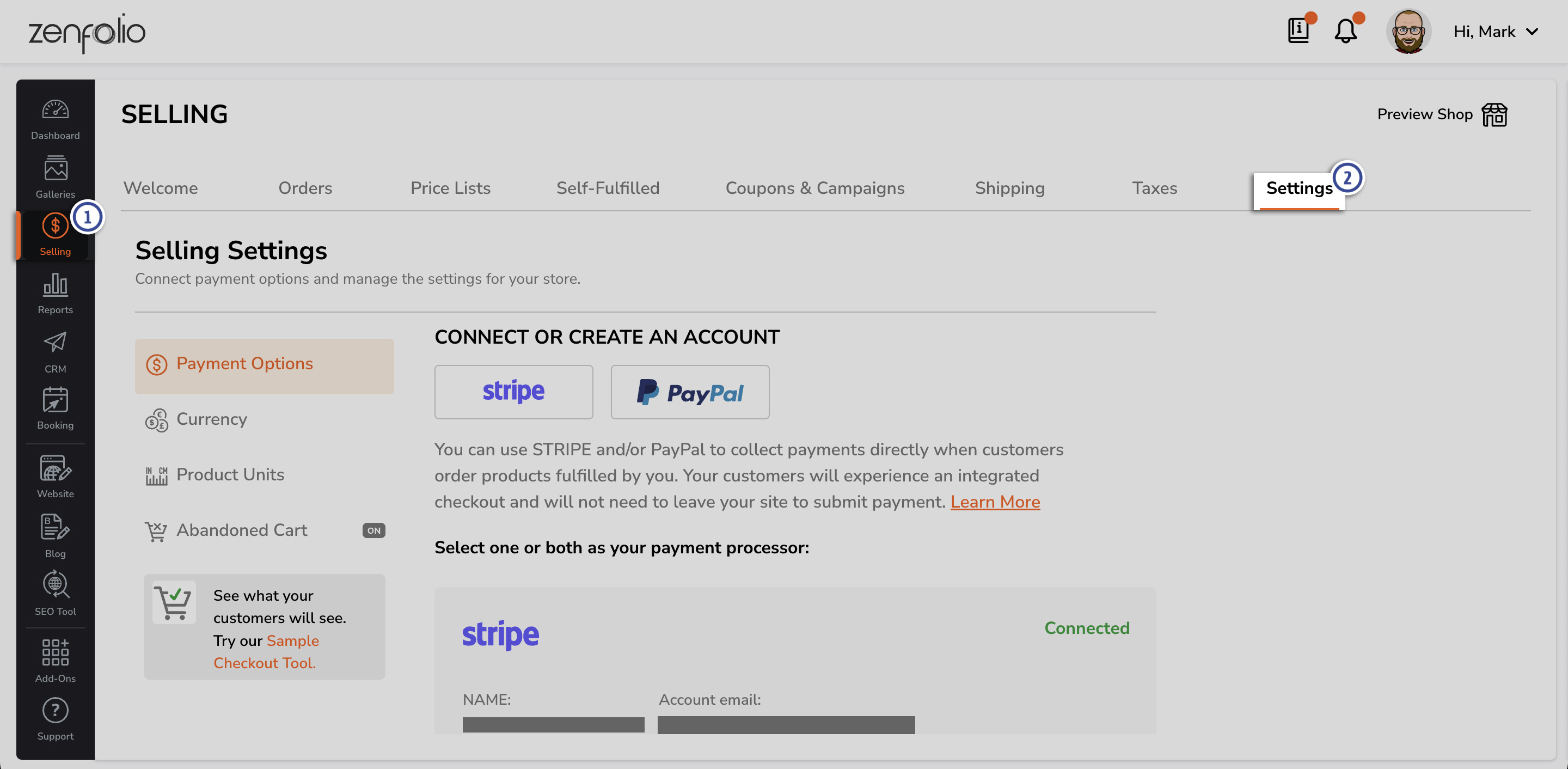 On the Selling Settings page, you'll find:
Payment Options
In order to begin selling through your Galleries, you will need to connect at least one payment processor so that your customers can actually make a payment for the products they're ordering. You can connect to Stripe to collect payments via credit cards, debit cards, Apple Pay, and Google Pay; and/or you can connect to PayPal to collect payments from personal and business PayPal accounts.
Click here for more information about connecting to a payment processor.
Currency
When selling through your Zenfolio Galleries, you can choose to sell in one currency. This selected currency will not only be what your customers will pay in, but it will also work together with your account subscription's country of origin to determine what integrated vendors you can sell products from. (i.e US subscription accounts selling in USD can sell products from Mpix and Bay Photo).
Your account's selling currency will default to the same currency that you pay for your account subscription, but if you need to change the currency you can do so by clicking on the change button in this section.
Zenfolio currently supports the following currencies:
United States Dollar (USD)
Australian Dollar (AUD)
Canadian Dollar (CAD)
Euro (EUR)
New Zealand Dollar (NZD)
British Pound (GBP)
If you ever choose to change the currency being used for selling in your account, all of the Price List previously created under a different currency must first be removed from your account so you can start new with a different currency. It will not be possible to change the currency of an existing Price List since the integrated vendor labs providing prints for one currency may not support another currency.
Product Units
To ensure that your customers know exactly the size of the prints they're purchasing from your Galleries, you can choose what unit of measurement will be used for your products.
By default, the product units will be determined by the most commonly used unit of measurement in the region where your account subscription origin is based (US, UK, EU, AU, etc.)
This setting will also impact the unit of measurement used by Self-Fulfilled products, if you choose to offer any products you will self-fulfill outside of Zenfolio.
Abandoned Cart
When a customer starts adding products to their shopping cart, they may not complete their purchase right away. The Abandoned cart emails will help to get customers to place their orders after abandoning their shopping cart after a certain amount of time.
This can help making sure that sales are completed for anyone that may have started to build a shopping cart they might have forgotten to complete their order.
If you do not wish to send abandoned cart emails to your clients, you can Disable this option.
For more information about Selling through your Zenfolio Galleries, click HERE.