Exclusive to PortfolioPlus and ProSuite subscribers.


Price Lists control the products that are offered for sale to your clients. They also allow you to set the prices that you want to charge for those products and packages. See here for tips on pricing your products.

There are four Primary steps in creating a Price List:
Learn more about getting started with selling, with this video, or follow the instructions below:
Creating A New Price List
Follow the steps below to create a new Price List in your account to start selling products through your Galleries.
In your Zenfolio account, click on the Selling icon on the left-hand side.
Select the Price Lists tab.
Click on the Create Price List button.
Choose the Shoot Type you want this Price List to be associated with. Additionally, you can select an event sub-category.
Click Next.
Give your Price List a name. Note: You cannot create multiple price lists with the same Name, each Price List name must be unique.
Then choose which type of Price List you'd like to create. You can choose to create an integrated print vendor Price List, a Self-Fulfilled Price List, or a Digital Only Price List. It is not possible to combine products from multiple integrated labs in one Price List.

Integrated Vendors are based on the currency of your Zenfolio account:
United States (USD) - Mpix and BayPhoto
Canada (CAD) - Fujifilm
United Kingdom (GBP) - One Vision Imaging
Europe (EURO) - Fujifilm
Australia (AUD) - HCpro
International plans (available to countries not listed above) can sell Self-Fulfilled products and Digital products in the following support currencies: USD, CAD, GBP, Euro, AUD, NZD.


Then select whether you want to start with some Commonly Sold Products in the Price List or a completely Blank Price List.
Click Next.


If you choose to start with Commonly Sold Products you'll see that there are already some packages and individual products in the Price List that you can edit or delete. If you choose a Blank Price List, you'll be starting completely from scratch.
Creating and Editing Packages
In your Price List, to create a new Package, click on the Create a Package button.
To edit an existing Package, click on the Packages headline to collapse and expand these options.

To Edit and existing Package, click on the 3 dots icon and choose Edit. You can also duplicate and delete a package in this menu.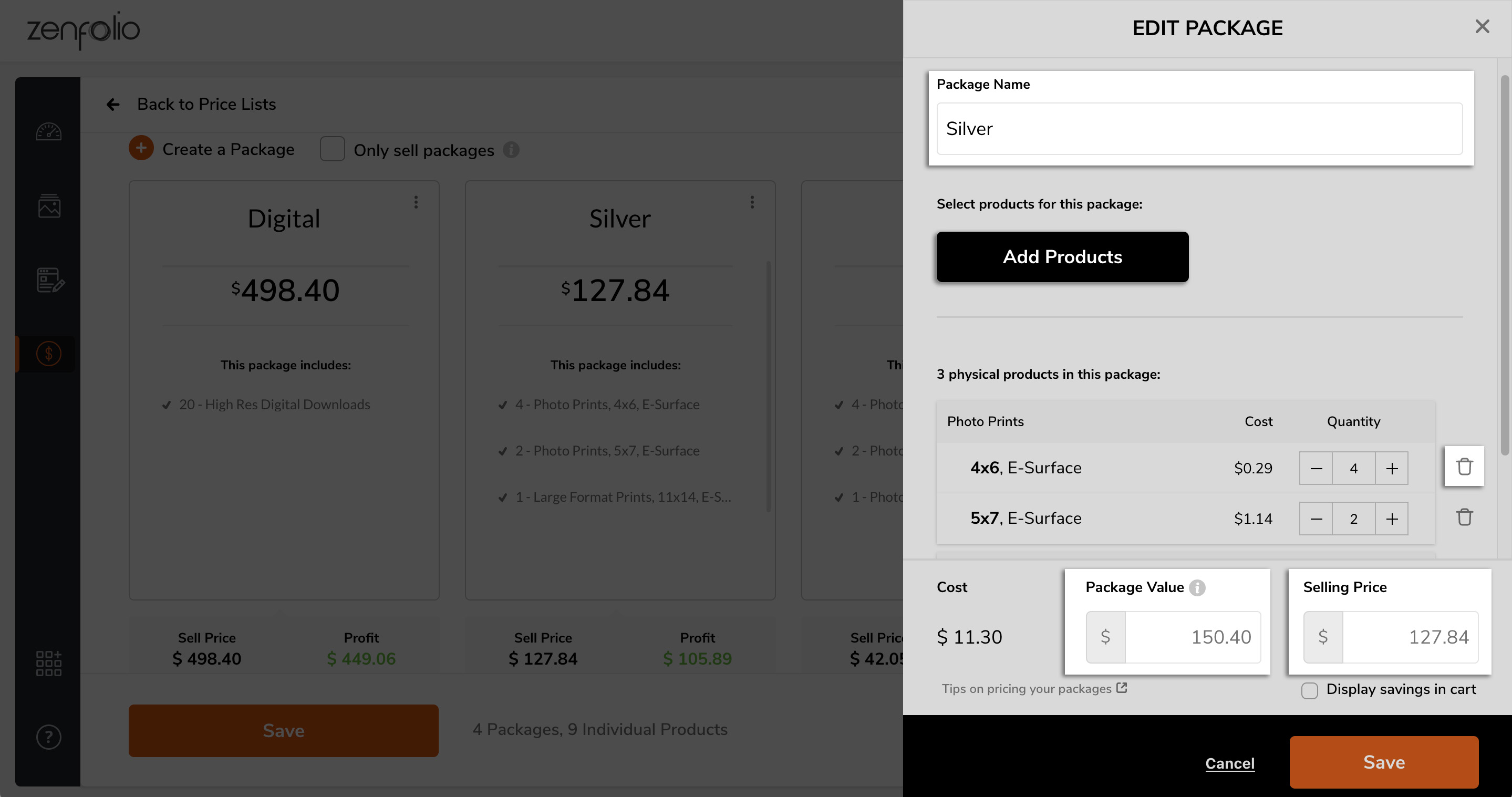 Adding Products to a Package
To add products to a package, click on the Add Products button.
Select the type of product you're wanting to add.
If you chose to add a print product; select the size, paper type, and any add-ons you want to add. If you chose a digital product; select which resolutions you want to make available.
Click Add to add the selected product, and you can then move onto select the next product you want to add to the Package.
Once you're done adding products to the package, click on X in the top right-hand corner of the Add Products window.
Adjusting Package Value and Selling Price
Once you've got your products added to the package, you can then edit how much a client will pay for their package by adjusting the Selling Price.

The Package Value can be used to show clients what kind of savings they're getting by purchasing in a package vs individual products. By default, the package value will use a markup of 100% over base product cost.
For example, let's say you have a package of 4 8x10 prints that you're selling for 15.00. With our default 100% over base cost markup, this package has an actual value of 19.20 – a savings of 4.20 when the client purchases the package of prints.

You can manually increase/decrease the Package Value amount, but this should always be more than actual Selling Price of the package. If you'd like the client to see how much they're saving with the package, check the Display savings in cart option.

When you've completed working on the package, click on Save.


Adding and Editing Individual Products
In your Price List, click on the Add Product button to add individual products.
You can also click on the Individual Products List headline to collapse and expand these options.

To Edit a products that already exists in the Price List, click on the 3 dots icon and choose Edit. You can also delete a product in this menu.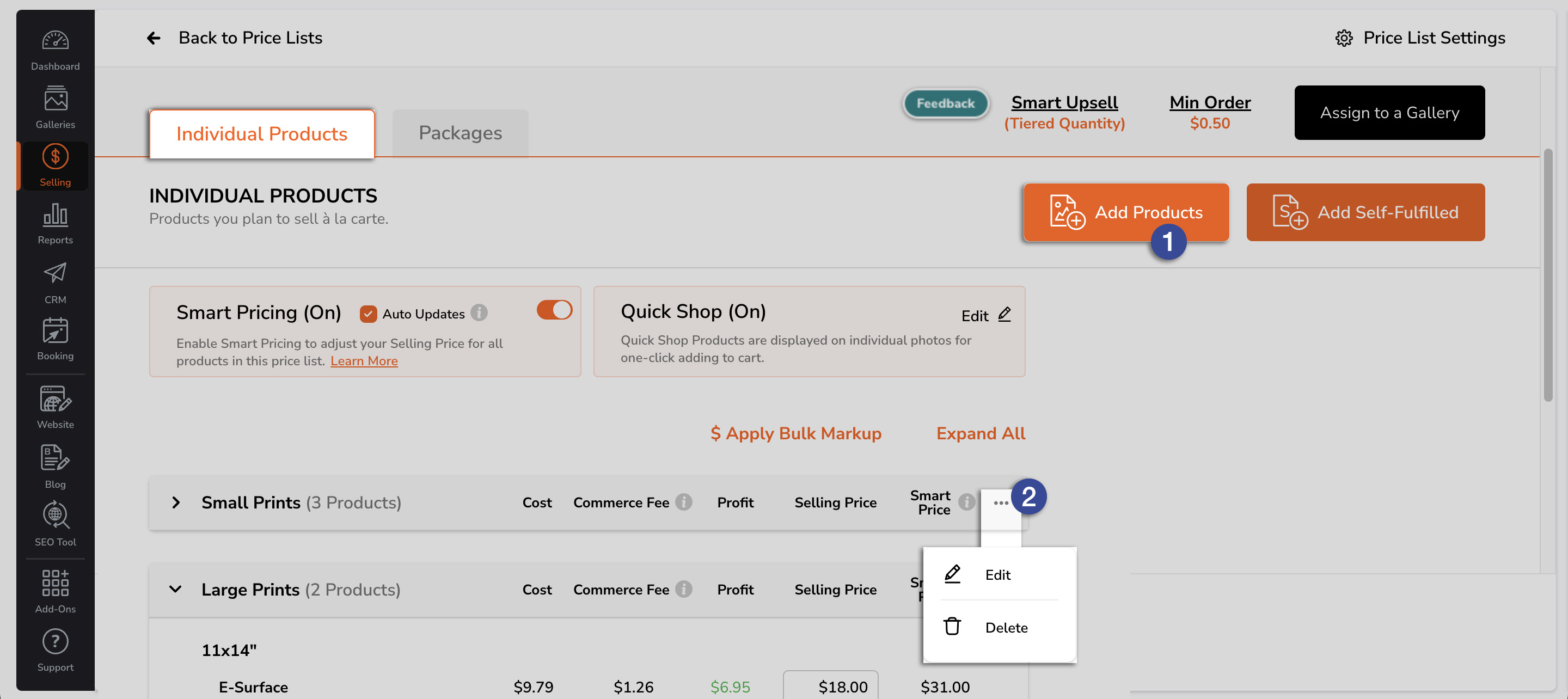 Adding a New Product to the Price List
When you click on Add Product, you'll be presented with the different categories of products available to choose from. Choose a product category.
You can then choose what sizes are available, as well as what paper types and additional options the clients will have to choose from.
If you want these print sizes to be available as framed prints, check the Framed Print Option box. You'll be able to edit those options as their own product category.
Once you've completed the selection of products fro that category, click Save.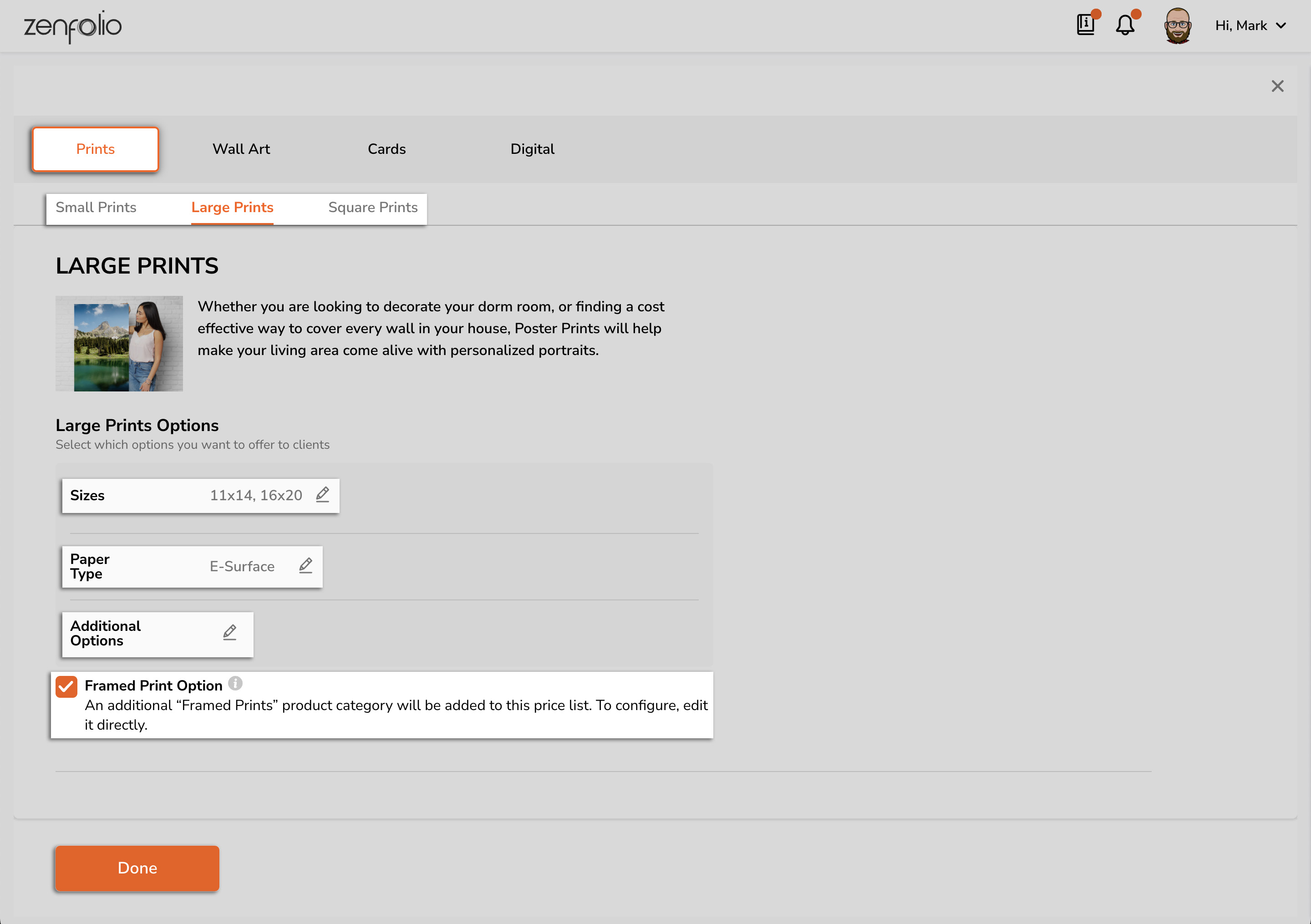 Editing Individual Products in the Price List
Once you've added individual products you can click on the

ellipsis icon next to that product. You'll be taken to the same page as if you were adding a new product. From here you can edit the product sizes and other available options.
Setting the Selling Price
When creating your Price Lists, after you've added the individual products you're wanting to sell; the costs, fees, and profits of the products will be split into an easily viewed format.
Smart Pricing
The Smart Price column shows you the recommended selling price for each individual product. This Smart Price is determined by a database of historical pricing information based on how photographers have priced their products in the last 12 months using data based on geographic location, printing vendor fees, and photography shoot type. By default, the Smart Price will be used as the Selling Price, but can be overridden by manually adjusting the Selling Price. As prices are manually changed in Price List, the Smart Pricing engine is smart enough to take that into consideration as it continually evaluates the best price to recommend.
Click here for more information about Smart Pricing.
Selling Price
The Selling Price will determine how much your clients will be paying when they purchase the products you are offering. You can adjust the Selling Price manually by adjusting the price in the text fields provided.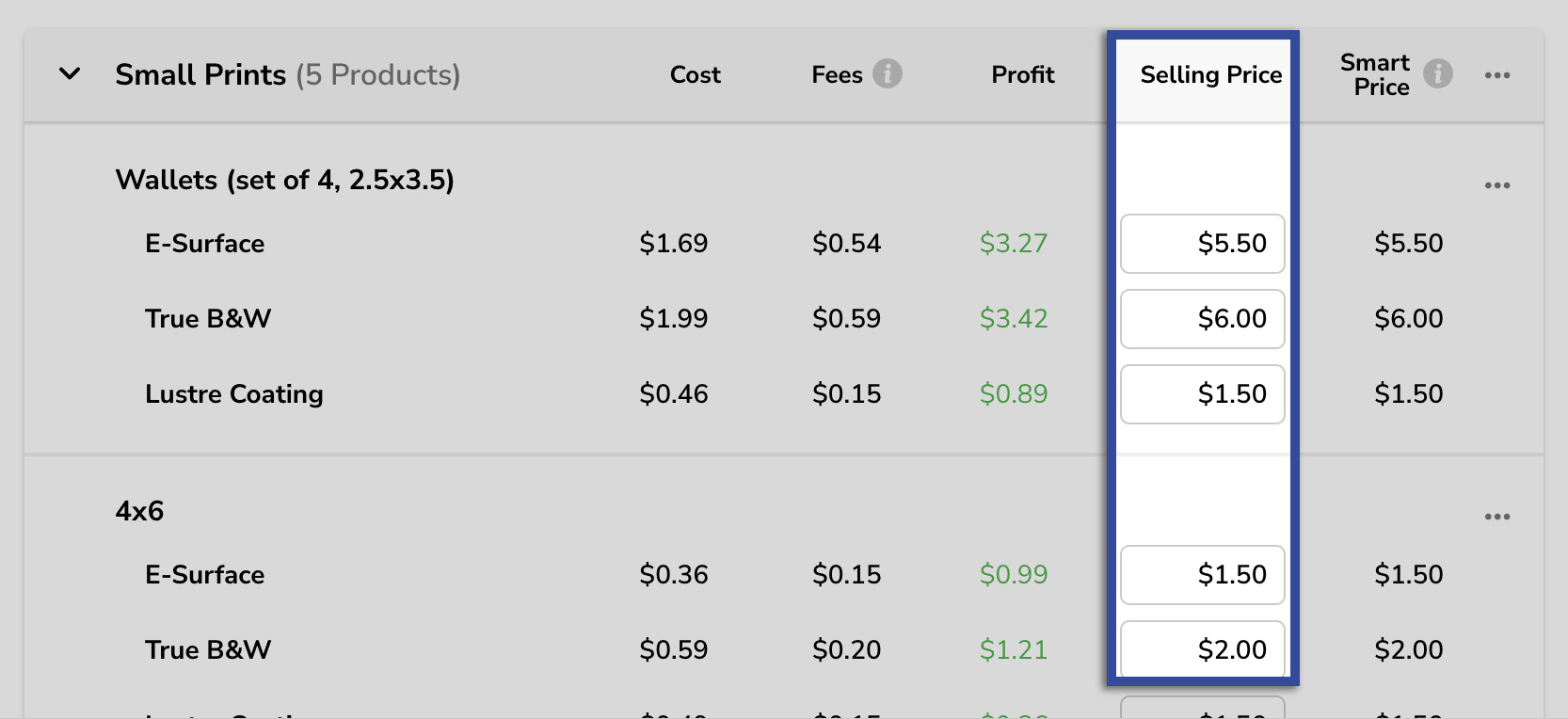 Base Product Costs
The Cost of the products is how much it costs the print vendor to produce a particular product. There will be no print vendor costs for digital products.
Service Fees
The Fees are calculated from the 9.9%* service fee that is charged for all products within an order.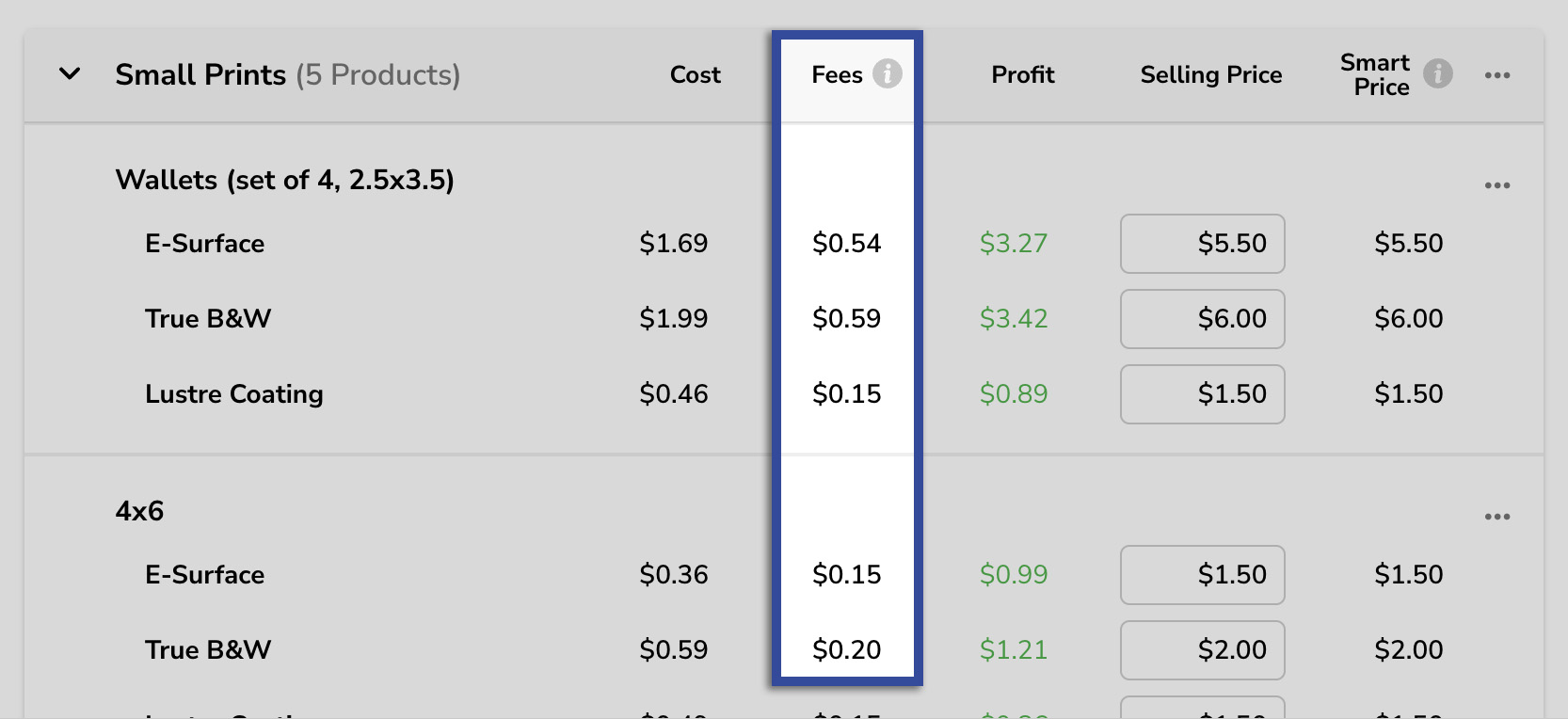 *Includes credit card company processing fees. You keep the rest minus any vendor costs for physical products.
Profit
The Profit column will show you how much you will be earning from each product after the individual product Cost and 9.9% Fee are deducted from the Selling Price.
Enable/Disable the Quick Shop
Once you've added the products you're wanting to offer, you can enable or disable the Quick Shop to allow clients to quickly add individual products to their shopping cart, when viewing their Gallery.
If you're not already in the Price List, click on the Selling icon.
Go to the Price Lists tab.
Locate the Price List you want to edit and click on the Edit button.
Within the Price List, scroll down to the Individual Products List and click on the View Quick Shop button.
The Quick Shop panel will appear on the right-hand side, if you want the Quick Shop enabled toggle the switch to Yes. If you want the Quick Shop disabled, toggle the switch to No. Please Note: If you create a Price List of "Commonly Sold" products, the Quick Shop will be enabled by default.
While there are pre-selected products listed, you can hover your mouse pointer over a product and use the pencil icon to edit the product being offered, or use the trash can icon to delete the product form the Quick Shop. The arrows to the right of each product can be used to change the order of the products.
If a product is deleted from the Quick Shop, you can click on Add Product to add a new product to the Quick Shop. Please Note: At this time, only five products can be offered through the Quick Shop.
Click Save once you've completed your changes.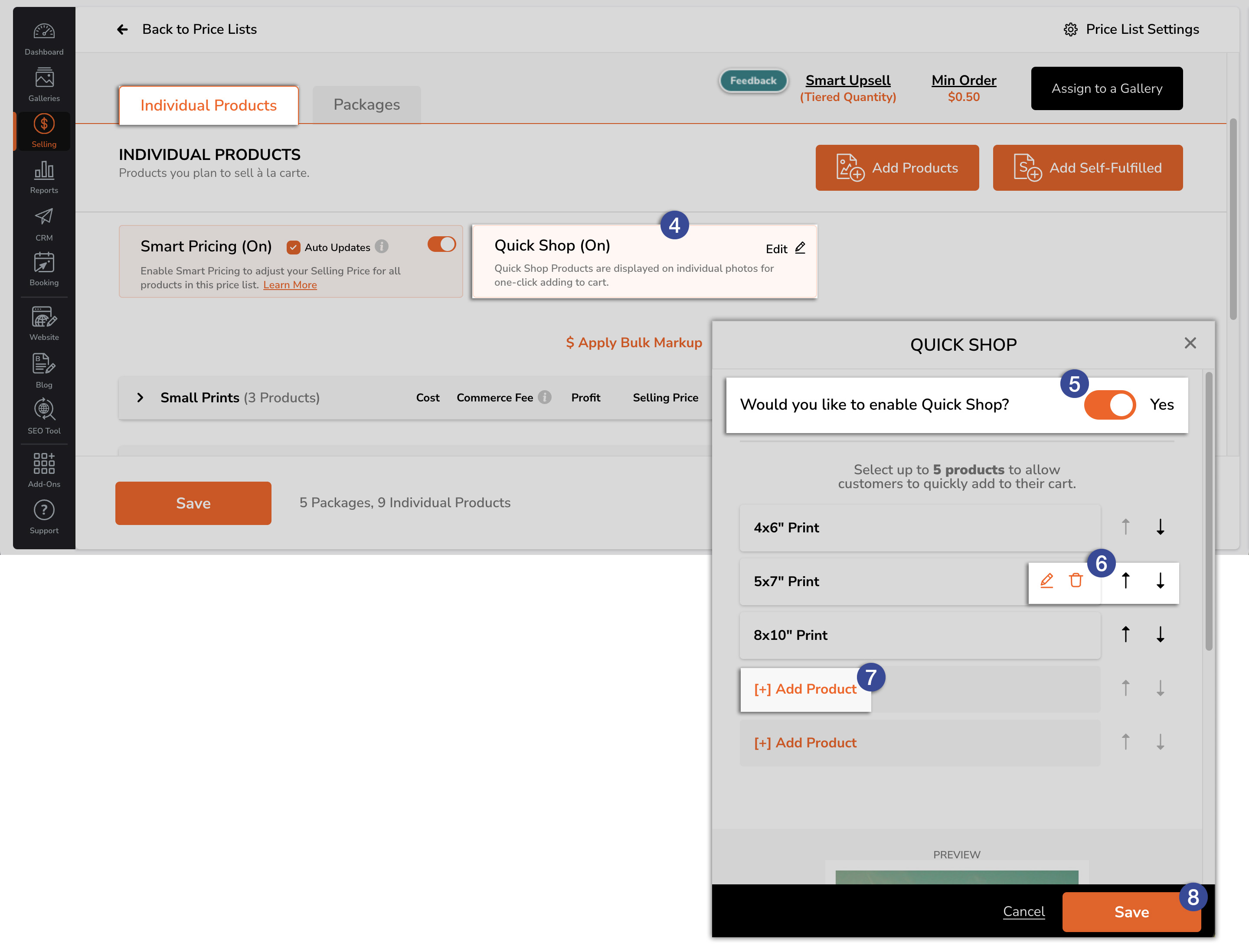 With the Quick Shop enabled, clients can move their mouse pointer over a photo they want to purchase, and then move the mouse pointer over the shopping cart icon. The Quick Shop will pop-up and they can choose from the 5 recommended products for the photo they chose.

Setting Up Order Approval
By default all Price Lists will be set up so that you must approve all order manually. This will allow you to review each order placed by your customers, making sure that the cropping and products they've selected are not cutting off important parts of the images.
If you'd like to review or change your Order Approval settings, follow these steps from within your Price List(s).
Within a Price List you're creating or editing, click on Price List Settings in the top left-hand corner.
Choose whether you want to approve orders manually or automatically, for each overall type of product.

Keep in mind Print Lab orders that are approved automatically will be sent to the lab directly for printing as-is and changes like cropping, address change, or even cancelling orders may not be possible once the lab has received the order. And all orders that are approved manually must be approved within 30 days.


Click Save.
Once you're done making changes to the Price List, be sure to click Save in the Price List itself so that your overall changes for the Price List are saved.
Assigning a Price List to a Gallery
After adding all the products and/or packages you want to offer, setting their prices, and double checking that everything is set up correctly; click on the Assign to a Gallery button, at the top of the Price List.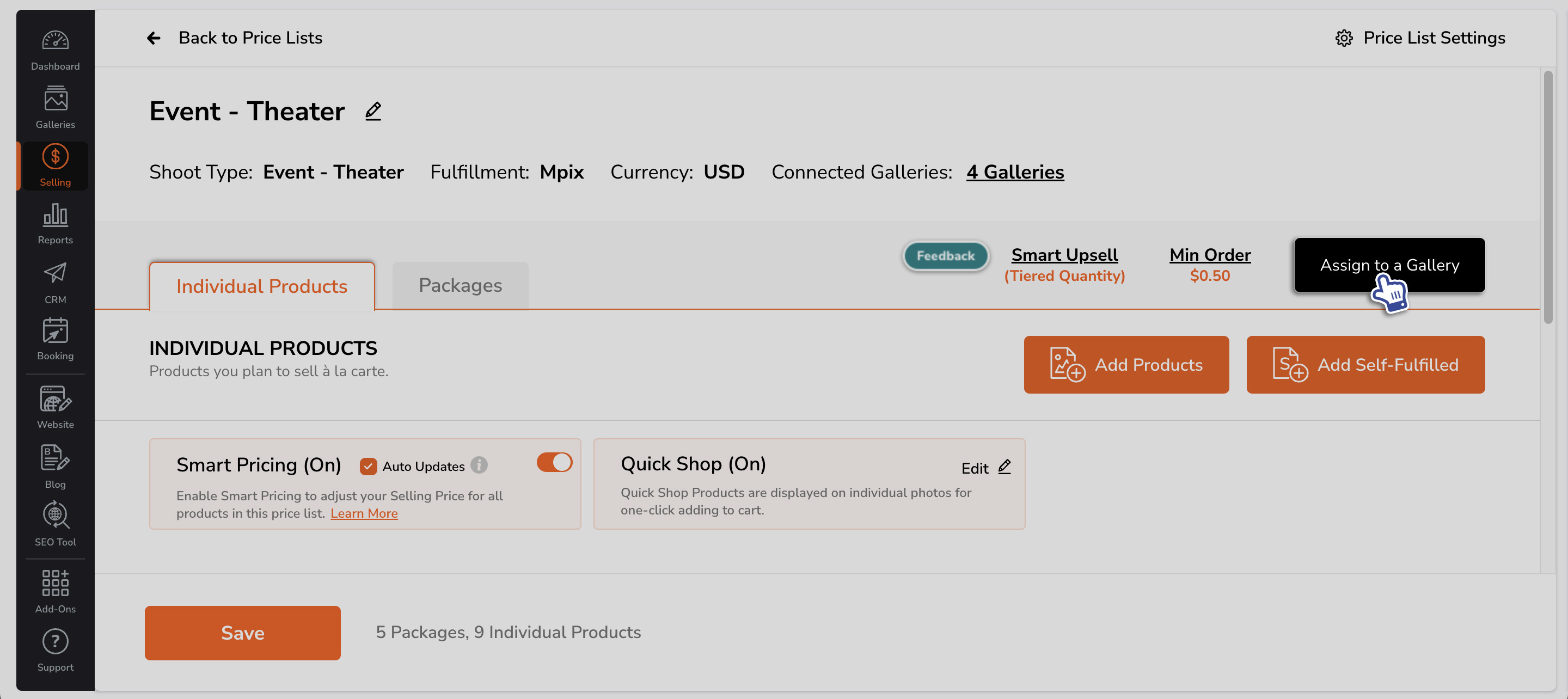 If there are any Galleries in your account that match the same Shoot Type that you indicated for this Price List, you'll see those Galleries first.
If there are no Galleries in your account that match the same Shoot Type that you indicated for this Price List, click on See All Folders & Galleries.
Select which Galleries you'd like to assign this Price List to.
Click Save.





Once assigned, you can easily check which Galleries are using this Price List by clicking on Connected Galleries within that Price List.

See this guide for more information and other ways to assign a Price List to a Gallery.



If this is your first Price List, you'll need to connect your Zenfolio account to Stripe and PayPal before you'll be able to actually enable the selling options in the Gallery. Zenfolio uses Stripe and PayPal to process payments for orders placed through your website, and this is also how you'll get paid your profits from your sales.

Please see this guide to connect your Zenfolio account to Stripe and PayPal, if needed.