Exclusive to PortfolioPlus and ProSuite subscribers.


At Zenfolio, we're happy to provide a robust and flexible eCommerce platform that allows for the selling of prints and other products using your photos. As a PortfolioPlus or ProSuite subscriber, you have the ability to sell products from our partner vendors, digital products for download, and to package any of these together… all at your own selling prices in the currency most suitable for your needs.
General Selling Outline
Here's a general overview of the steps you will need to take in order to start selling your photography through your website:
Don't forget to connect your Zenfolio account to a Payment Processor, this is how you will get paid for your orders sold.

Please Note: It is only possible to sell in one currency at a time, and the integrated product labs available to your account will depend on your subscription's country of origin – US, UK, CA, EU, AU, NZ – subscriptions outside of these countries can only sell through Self-Fulfilled and Digital Download products.



Getting Started Selling Products
With your PortfolioPlus or ProSuite subscription you have the ability to sell vendor fulfilled products, digital download products, and packages. See below more information about setting up each of these types of products within a Price List:
Vendor Fulfilled are predefined and ready to be added to a Price List with just a few mouse clicks, making them the easiest selling solution for busy photographers. When you take advantage of our vendor fulfilled products, you are able to track an order from the time it was placed through printing, packaging, and shipping. Our integrated vendors are top of the industry with a proven record of quality and attention to detail.
Digital Products allow you to sell digital copies of your uploaded photos in various resolutions (Original, High, Med, and Low). When using our Digital products selling option, the Zenfolio system will provide the ordered downloads directly to the client. No longer will you need to provide an external download option for clients that purchase digital photos.
Packages can be used to combine together Vendor Fulfilled and Digital Products into one purchasable option. Packages also provide you with a great way to encourage clients purchasing more products together at a possible discounted rate than if they purchase products individually.
Learn how to add a booking widget to your website and allow clients to book & pay by adding BookMe.
Once products have been added to a Price List, you'll want to adjust the Selling Prices as you see fit. From there, it's simply a matter of assigning your Price List to one or multiple Galleries or Folders. Here's an overview explaining in detail the process of creating, configuring, and implementing Price Lists for your products. After your Price Lists have been implemented, you'll want to use Order reports to keep track of sales.
Costs and Fees of Selling
When creating your Price Lists, that will determine what products you're going to be selling through your Galleries; the costs, fees, and profits of the products will be split into an easily viewed format.
Product Costs
The Cost of the products is how much it costs for production of print products and digital delivery of download products* sold.
*For processing and delivery, digital download products have a base cost of $0.09 for single photo downloads and $0.99 for full gallery downloads.
Fees
There is a Commerce Fee of 7% per order, imposed by Zenfolio, calculated on the total cost of products sold. As well as a Payment Processing Fee from Stripe or PayPal, which will vary by region.
Keep in mind that the Fees amount displayed in your Price List is Zenfolio's 7% Commerce Fee that applies to each individual product purchased in an order. This allows you to see how much you will be earning from each individual product.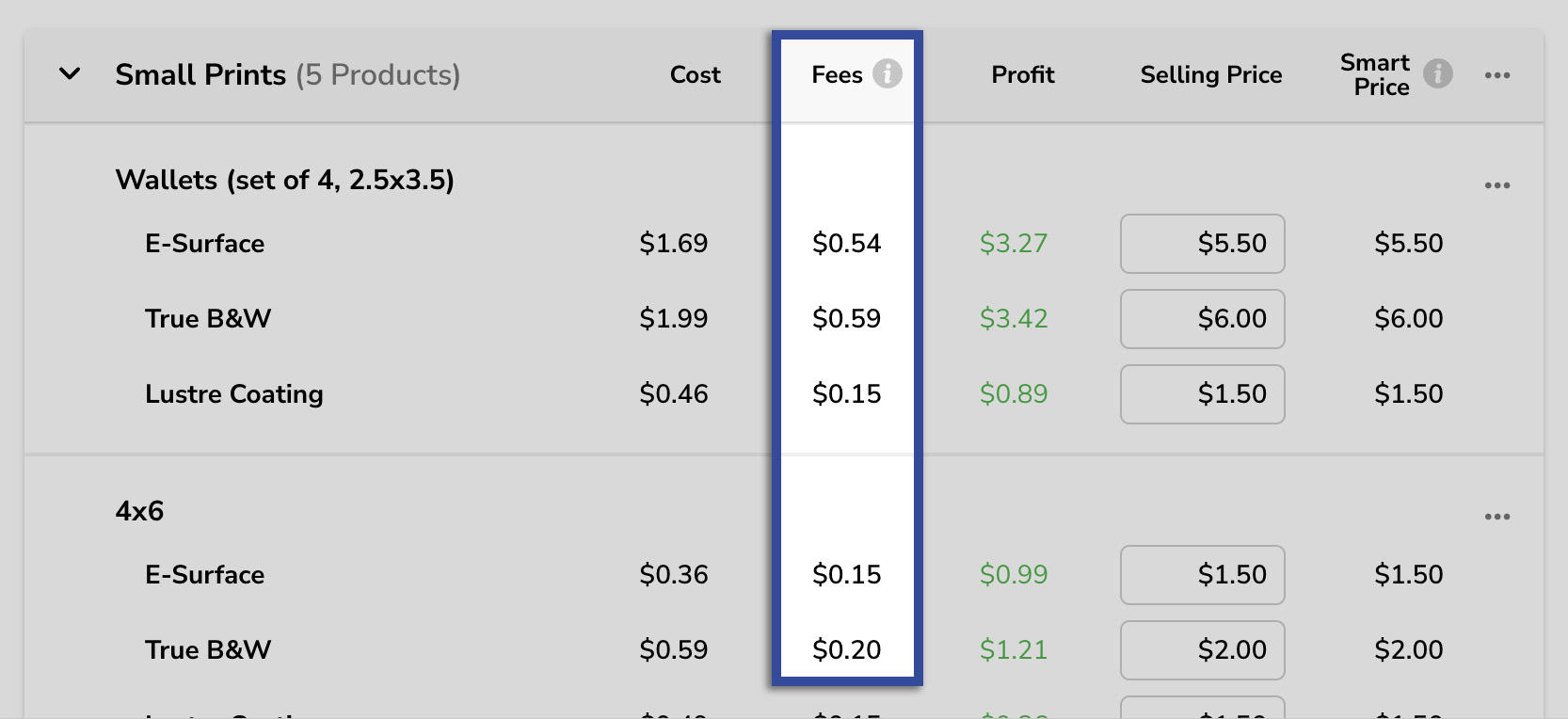 Profit
The Profit column will show you how much you will be earning from each product after the individual product Cost and Zenfolio's 7% Commerce Fee are deducted from the Selling Price.
Please keep in mind that this provided Profit estimate does not include the variable Payment Processing Fee.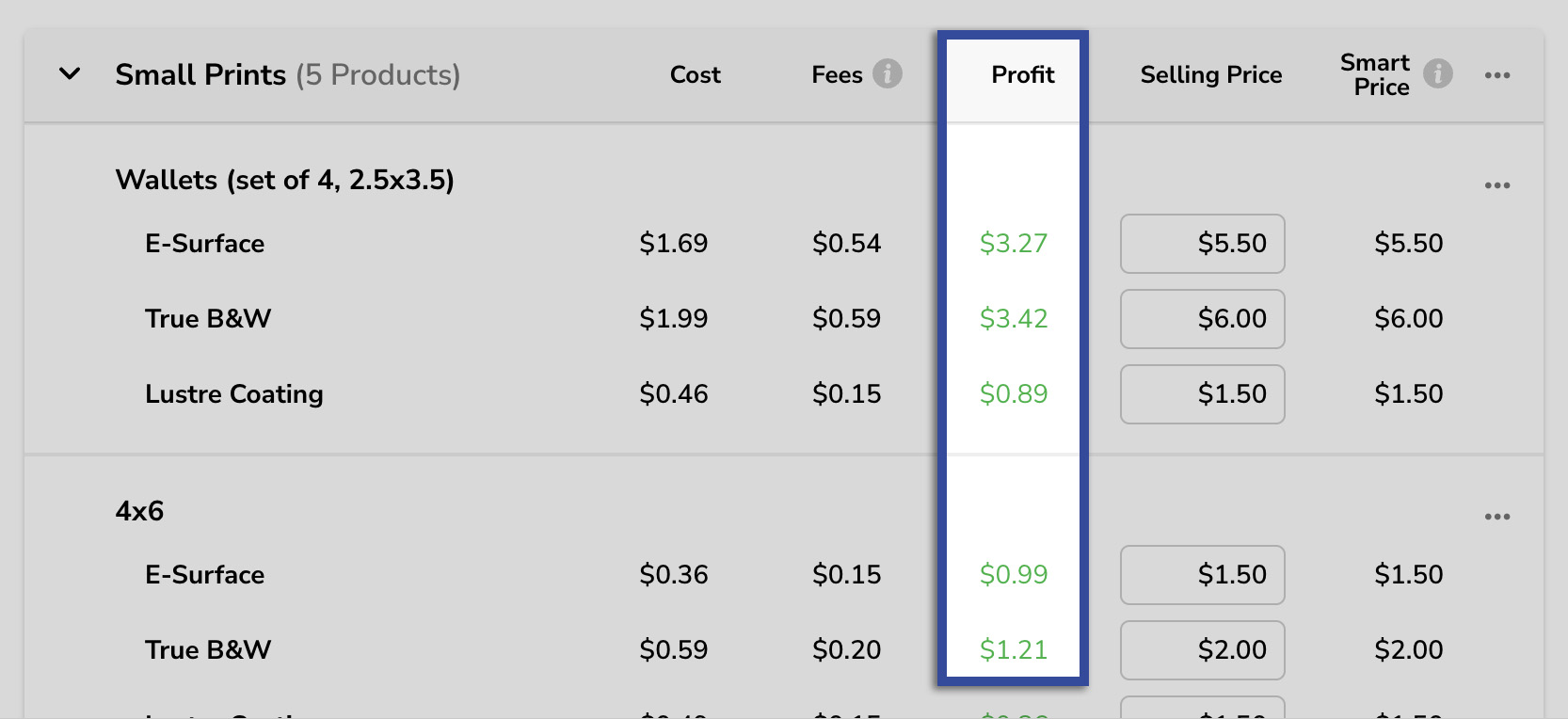 Selling Price
The Selling Price will determine how much your clients will be paying when they purchase the products you are offering. You can adjust the Selling Price manually by adjusting the price in the text fields provided.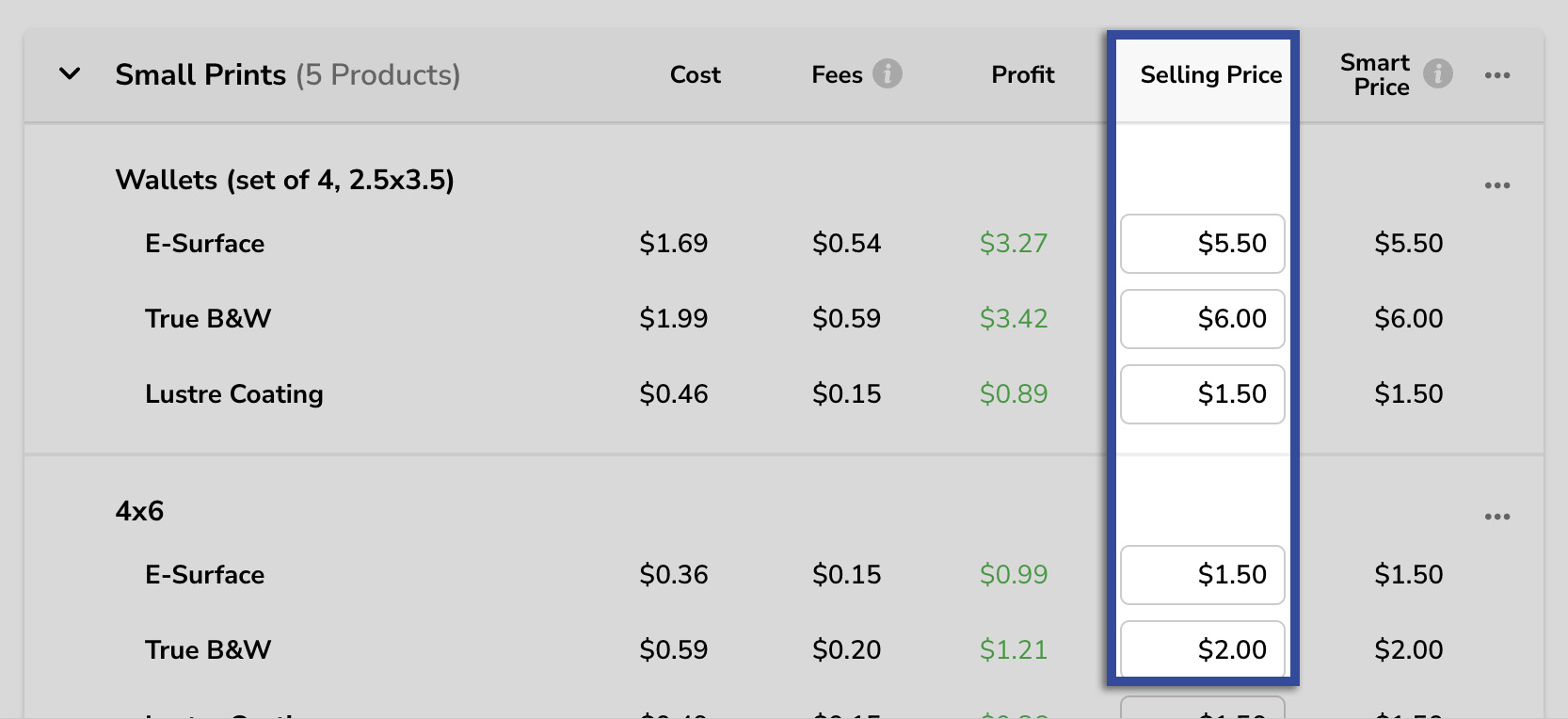 Smart Pricing
The Smart Price column shows you the recommended selling price for each individual product. This Smart Price is determined by a database of historical pricing information based on how photographers have priced their products in the last 12 months using data based on geographic location, printing vendor fees, and photography shoot type. By default, the Smart Price will be used as the Selling Price, but can be overridden by manually adjusting the Selling Price. As prices are manually changed in Price List, the Smart Pricing engine is smart enough to take that into consideration as it continually evaluates the best price to recommend. Smart Pricing is available for US PortfolioPlus and ProSuite plan subscribers.
Click here for more information about Smart Pricing.




Ready to make some money by selling prints and products fulfilled by Zenfolio partner vendors? Head on over to our Price Lists article, and we'll help you get started.



Learn more about getting started with selling, with this video:



For all non-USD orders processed through Stripe, the following applies:


If a discount is applied to the order during the approval process, after it has been placed, a partial refund will be generated to reflect the discount. This partial refund issued to the client will be charged to the credit card on file for the Zenfolio account owner.
Please be aware of the following fees and costs when selling products through Zenfolio: There is a commerce fee of 7% per order (calculated on the order sub-total, excluding tax and shipping) and a payment processing fee of 2.9%+0.30 when using Stripe* or 3.49%+0.49 when using PayPal (calculated on the order total, including tax and shipping). You keep the remaining profit, minus any product cost for either print production or digital product delivery.

*If an order is discounted during approval, after being placed, Stripe charges an additional fee on the discounted amount of 1% for USD transactions and 2.9% for non-USD transactions. This additional payment processing fee from Stripe will be seen on Stripes end of the reported payment.